The Maine TU Council FERC committee was formed to coordinate relicensing actions in Maine and its border waters by the Federal Energy Regulatory Commission (FERC).
The work of the committee is eclectic, but its basic functions include the following:
Monitor and report FERC actions throughout Maine
Execute or support FERC-related actions
Approach and interact with Maine government officials as needed on FERC matters
Conduct training for groups with FERC project ownership
Conduct continuous outreach to local groups
Interact with and inform the Hydropower Reform Coalition
Prioritize and interact with academia to accomplish needed studies
Click here for information on other projects, how to interact directly with FERC, and upcoming events.
Restoring Atlantic salmon to the Kennebec River Watershed is Maine TU Council's top fisheries restoration priority. Click here for the latest information. 
The Initial Study Report for the Ripogenus - Penobscot Mills relicensing has been posted, click here to access it. If you fish the West Branch and would like to comment on how the Ripogenus Project is being operated, click here to learn how to interact directly with FERC.  Use project number P-2572 when filing comments. 
On October 5, 2022, a Brookfield study trip event demonstrated that periodic generator trips (typically a down power line) at McKay Station are killing landlocked salmon parr when flows drop quickly to 400 cfs. Some of us have seem that occur during the summer. Click here for the full TU report with links to additional photos and videos.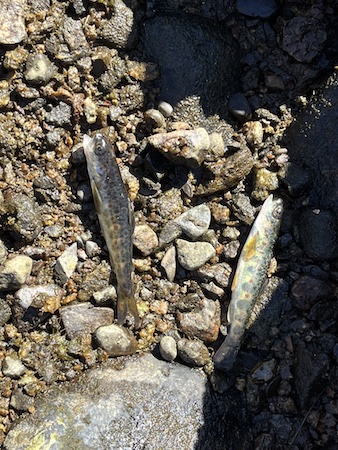 Dewatering of the Ripogenus-Chesuncook impoundment is also occurring and is a major concern as well.